From the Desk of Principal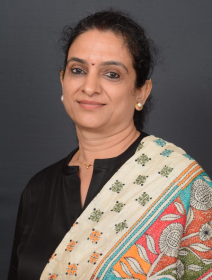 Dr. Tejashree V. Shanbhag
I/c Principal, K.C. College
"The future belongs to those who believe in the beauty of their dreams." – Eleanor Roosevelt
We at KC College dream of delivering quality education to every child and empowering them to lead a happy and fulfilling future. And it is in this pursuit of dreams that for the past 66 years we are creating a vibrant environment for the overall development of the child.
We are in sync with the changing needs of education by introducing various new programs and revamping the existing courses following the guidelines provided by NEP. These programs are targeted to address the needs of the 21st-century learner and provide a holistic and multi-disciplinary education to all students.
Being a part of HSNC University, we possess greater freedom and responsibility for steering the direction of learning for the modern youth.  KC college takes pride in its dynamic management, compassionate and learned teachers, committed and caring staff – all of which strive for the all-round excellence.
We have taken several steps to ensure that our curriculum is in line with the changing needs of education. For one, we have placed a strong emphasis on critical thinking and problem-solving skills. Moreover, we have recognized the importance of technology in the modern world. As such, we have invested heavily in technology infrastructure, and have integrated it into the curriculum. Our students are equipped with the skills required to navigate the digital world and use technology to their advantage. Additionally, we recognize the importance of soft skills such as communication, collaboration, and leadership. Our students are provided with ample opportunities to hone these skills, through group projects, internships, and extracurricular activities.
Living up to the college motto "Salvation through Knowledge", KC College is poised to navigate the changing needs of education in the 21st century. We are committed to providing you with an education that will prepare the youth for the challenges of the future, and we look forward to seeing them all succeed in your academic and professional pursuits.