Admissions
ADMISSION POLICY
Kishinchand Chellaram College is a Linguistic Sindhi Minority College, administered under the provisions of the Indian Constitution, to promote the welfare of the Minority community.
As per the Judgement dated 12th October 2017 of the Honourable Bombay High Court vide Writ Petition No. 1726 of 2001, Minority Colleges do not need to set aside seats for Backward Classes. This is reiterated by the University of Mumbai Circular (No.Aff./Recog.I/Admission/(2018-19)/10/of 2018), dated 30th May 2018.
This Judgement renders null & void the Directives regarding Reservation of Seats given by the
University of Mumbai vide Circular No. Spl. Cell / (68) / 218 / 2005 dated 3rd June, 2005 [i.e., SC (13%) / ST (7%) / DT(A) (3%) / NT(B) (2.5%) / NT(C) (3.5%) / NT(D) (2%) / OBC (19%) / SBC (2%)
MINORITY CERTIFICATE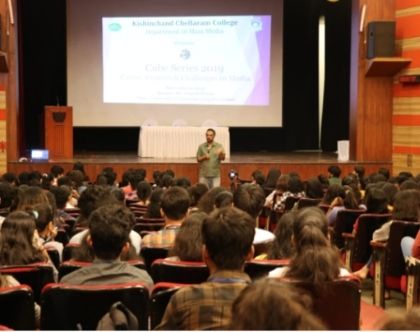 Kishinchand Chellaram College is one of the top most colleges of Mumbai offering a number of diverse programmes of study. Apart from the regular Bachelor of Arts, Bachelor of Commerce & Bachelor of Sciences, the college offers several self-financed programmes such as BSc Information Technology, B.Sc Computer Science, BSc Biotechnology, B.Com in Accountancy & Finance, B.Com in Financial Markets, B.Com in Banking & Insurance, Bachelor of Management Studies, B.A in Multimedia & Mass Communication, B.A in Films, Television & New Media Production.
The college has also opened new branches of studies like BSc in Yoga Sciences, Bachelor of Performing Arts, BSc in Data Science & Business Analytics, B. Vocational in Web Technology & B. Vocational in Sports & Entertainment Management.
Junior College Admissions
FYJC Admission 2023-2024
FYJC Minority Quota Admission 2023-2024
Undergraduate Admissions
FY UG Admission Process 2023-24
Post Graduate Admissions
FY PG Admission Process 2023-24
HPET – Ph.D. Entrance Test
Certificate Courses
National Institute Ranking Framework (NIRF)
Certificate Courses
Science Communication, Wealth Management, Financial Derivaties
APPLICATION PORTAL IS LIVE NOW!!!!
Online Transcript
Courses We Offer
Junior College
Under Graduate Courses
Science
B.Sc. Biotechnology
B.Sc. Chemistry
B.Sc. Computer Sciences
B.Sc. Information Technology
B.Sc. Life Science / Biochemistry
B.Sc. Microbiology
B.Sc. Physics
B.Sc. Statistics
B.Sc. Mathematics
Arts
B.A. Economics
B.A. English
B.A. Films, Television and New Media Production
B.A. Hindi
B.A. History
B.A. Multi Media & Mass Communication
B.A. Psychology
B.A. Sociology
Commerce
B.Com. Accounting & Finance (BAF)
B.Com. Banking & Insurance (BBI)
B.Com. Commerce
B.Com. Financial Market (BFM)
B.Com. Management Studies (BMS)
Post Graduate Courses
Arts
M.A. Communication and Journalism (MACJ)
M.A. Hindi
M.A. Media, Entertainment and Advertising (MAEMA)
M.A. Psychology
M.A. Economics
Science (By Research)
M.Sc. (Research) Analytical Chemistry
M.Sc. (Research) Inorganic Chemistry
M.Sc. (Research) Nuclear & Radiochemistry
M.Sc. (Research) Organic Chemistry
M.Sc. (Research) Physical Chemistry
Science (by Papers)
M.Sc. (Papers) Analytical Chemistry
M.Sc. (Papers) Computer Science
M.Sc. (Papers) Information Technology
M.Sc. (Papers) Inorganic Chemistry
M.Sc. (Papers) Microbiology
M.Sc. (Papers) Organic Chemistry
M.Sc. (Papers) Physical Chemistry
M.Sc. (Papers) Statistics
Commerce
M.Com. Advanced Accountancy
Research
Ph.D – Sciences
Analytical Chemistry
Inorganic Chemistry
Life Science
Nuclear & Radiochemistry
Organic Chemistry
Physical Chemistry
Refund of Fees on Cancellation of Admission
In accordance with University Grant Commission Notification on Refund of Fees and Non-Retention of Original Certificates, October 2018 the following refund policy shall be applicable to the students for cancellation of admission and refund of fees:
The candidates/students who have taken admission in the programmes offered at Departments, Schools, Centers and Constituent Colleges of the University may request for refund of fees after applying in writing to the Principal, in the prescribed form, for cancellation of her/his admission to the Program as per the refund policy as mentioned in the schedule as follows:
Percentage of Refund of Fees
Percentage of Refund of Fees Point of time when the notice of
withdrawal is received by the Department/School/Constituent College of the University
100% Refund
15 days or more before the last date of admission
90% Refund
Less than 15 days before the last date of admission
80% Refund
15 days or less after the last date of admission
50% Refund
More than 15 days but 30 days or less after the last date of admission
No Refund
More than 30 days after the last date of admission

*05% of the fees paid by the student, subject to a maximum ₹5,000/- (Five Thousand Only) shall be deducted as processing charges from the refundable amount.

All refundable deposits (Laboratory, Caution Money and Library etc.) shall be fully returned when a student leaves the college or cancels the admission on production of original fee receipt. Deposits not claimed within one year of leaving the college or cancellation of admission shall be forfeited.
For the students who are leaving the college after completion of studies, schedule for the refund of deposit will be put up on the college notice board after the declaration of the result of the relevant course. For those students who cancel their admission in the middle of the course, the amounts of deposits will be refunded to the student after 15 days from the date of receipt of their application duly signed by student and NOC from departments concerned.
The following fees shall not be refunded over and above the refund policy as mentioned in the schedule above, in-case of the receipt o application for refund of fees from the Student is on or after the commencement of the Academic term:
(I) The fee charged towards group insurance and all fee components to be paid as University share (including Vice Chancellor fund, University fee for Sports and Cultural activities, E-charges, Disaster Management Fund, Exam fee and Enrollment fee) are non-refundable.
(II) Fee collected for Identity card and Library card, admission form and prospectus, enrollment and any other course specific fee are not refundable after the commencement of the academic term.
The refund of fees to eligible students shall be processed within 15 days from the date of receiving written application for refund of fees as per the rules applicable.
It is further notified that the original documents if any, as submitted by the student at the time of admission or in relation there to, shall be returned to the concerned student.
In case of any grievance with respect to refund of fees the student shall make an application to the Admission Committee which shall lay down a process for Grievance Redressal, from time to time.
Notes Relating to Fee Concession: Students belonging to reserved category, as recognised by the Govt. of Maharashtra, are eligible for fee concession. Those who are desirous of availing such facility should produce Caste Certificate duly certified by the government authority at the time of admission and should fill the prescribed Government free-ship / scholarship form with necessary documents within the due date on notification by the college and relevant notice for the same will be circulated in the Classrooms as well as will be displayed in the Notice Board. Those students who fail to fill the form in time are liable to pay the full fees.